Facility Rental
Are you looking to find something different in a horse facility?
Can you find a place where there is more concern about what the facility can do for you than what they can do for themselves?
Are you looking for a facility that will work with you instead of just saying, "This is how it is"?
Well, here we are - striving to meet and surpass your needs. We feel we can be a valuable asset to your horse show and can be a contributing factor in helping make a profit for your club or organization.
Amenities our facility offers include:
Main covered arena (100 x 200) with seating for 1000 and a P.A. system.
Warm-up arenas - Covered (50 x 100) Outside (100 x 120)
Outside arena (190 x 290) with P.A. system, lights and bleachers.
288 12 x 12 pre-bedded stalls (some additional 10 x 10's)

Restrooms, heated with showers.

Wash racks, indoor and out, with hot and cold water.

Farrier shed.
Concession stand/snack bar.
Camping/trailer parking easily accessible to barns (some camping hook-ups)
Parking on grounds for 600 plus vehicles.
Some trail, games and jump equipment.
Room for vendors.
Shavings available for bedding.
Tractor driver complimentary for eight (8) hours.
Horse Hotel with evening security.
If this is a facility that seems to fit your needs, we are available for interviews and tours, at your convenience. Please call our office at 253-847-9506 or e-mail
info@tacomaunit.com
and we will check the calendar, set up an appointment to tour the facility and answer any questions you may have. We hope you will consider us for your next show.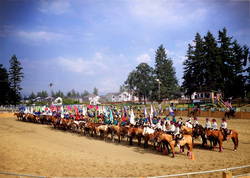 This is the rodeo arena which measures 190 x 290.
---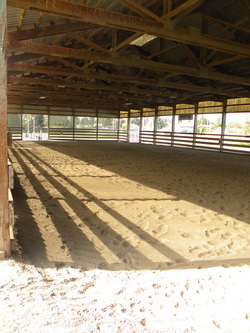 Curtis Arena is just outside of the main indoor arena (50 x 100) where most participants in shows warm up under cover.
---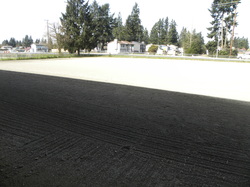 This is the outdoor area (100 x 120) where on sunny days, there is more room for participants to warm up. It is located next to Curtis Arena and immediately next to the indoor performance arena.
---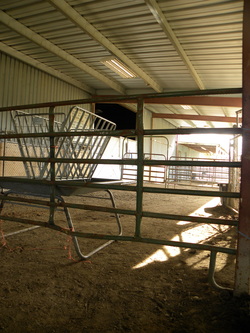 This is a cattle holding area where cows can be offloaded from semi trucks. A ramp and shoot are also available. Panels are available for larger containment but needs to be coordinated with the office staff.
---